Events
TENSA is constantly moving.
Discover our latest activities in our social channels.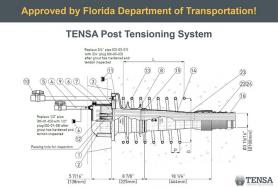 We are extremely proud to announce that TENSA PT system is the first officially approved by Florida Department of Transportation (FDOT) under the new 2017 Standard Specifications for Road and Bridge Construction. Tensa America 19AMTS bonded PT system is the first officially introduced on January 24th 2018 in the "Approved Post-Tensioning System Vendor List" released by FDOT Structures Design Office. A link to the web page is here: http://www.fdot.gov/structures/CADD/standards/ApprovedPTDrawings/ApprovedPTDrawings.shtm This first prestigious approval comes after nearly 5 years of developments and tests carried out in US laboratories to meet severe technical specifications and requirements from Florida Department of Transportation. This achievement is a powerful proof of the performance and development of Tensa PT system which is now ready and available to the Florida and USA market. Congratulations to the Technical Department working group who put together a huge effort to deal with a long testing and approval process that is not yet over!
January 26, 2018
see post