Events
TENSA is constantly moving.
Discover our latest activities in our social channels.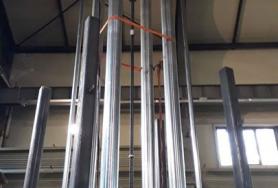 📣Successful completion of fatigue and tensile test and fatigue and leak test over Tensa 4 strands hanger system for Pensacola Bay Bridge project! 🇺🇸🛣 Tensa has brilliantly completed the testing program for assessment of the 4 strands hanger system for the Pensacola Bay Bridge project in Florida (USA). Fatigue + tensile test and fatigue + leak test in accordance with PTI DC45.1-12 recommendations have been positively completed in the Structural Engineering Laboratory (GIMED) of the Politecnico of Milan (Italy). Tests have been required to assess the performance of the system that will be installed in the Pensacola Bay Bridge project, located in Pensacola, Florida, under the FDOT Authority. Cables for this project are designed to use galvanized, waxed and hdpe coated strand: this will be a new feature for US bridges and has been specifically requested by FDOT. Tensa America will be responsible for the supply and installation of the system in middle 2018.
January 16, 2018
see post